2022 MDX Type S vs 2022 BMW X5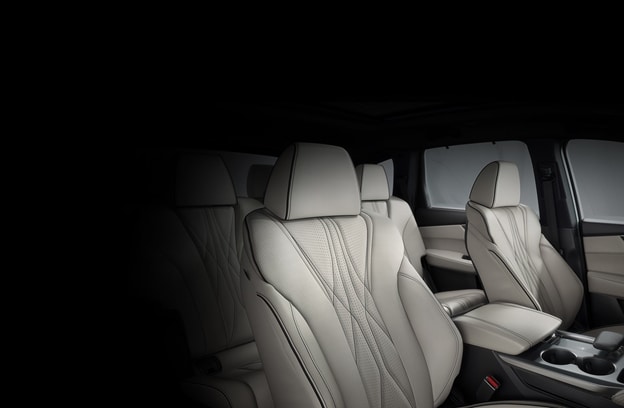 2022 MDX Type S vs 2022 BMW X5
With a recent surge of competitors in the mid-sized SUV market, it can be difficult to find the best option. If you are in the market for a luxury mid-size SUV, you've likely heard of, or even looked at the Acura MDX Type S and the BMW X5. They are both excellent cars in the segment.
Not sure which luxury SUV to choose? Don't worry! That's what our team at Acura North Tampa is here for! Keep reading to learn how the 2022 MDX Type S and BMW X5 compare in this head-to-head comparison. Let's go!
Exterior Design
The Acura MDX Type S has a curb weight of 4,565 pounds, which is lighter than the BMW at 4,860 pounds. The MDX measures 198.4 inches in length and 78.7 inches in width. Its height is 67.1 inches. 
The BMW X5 measures 193.8 inches in length, 78.9 in width, and 68.7 inches in height. As you can see both vehicles are similar in dimensions.
The Acura MDX has a much bolder and superior exterior look, and its double-wishbone front suspension allows for ample traction and responsive handling. 
Both vehicles come with:
●       LED headlamps
●       Rain-sensing windshield wipers
●       A panoramic moonroof 
The MDX also has rear and front parking sensors with active lane-keep assist, whereas the BMW X5 has just a rear parking sensor and a warning for lane-keep assistance.
Premium Interiors
Both vehicles have luxurious eye-catching interiors, but one is a definite stand-out! When comparing the Acura MDX and the BMW X5, the MDX offers higher-quality French-stitched full-grain leather seats, while the BMX comes with synthetic leather. The impeccably crafted seats in the MDX also come with a massage feature.
Both vehicles come with power lumbar support in both the passenger and driver seats. The MDX comes with 12-way seats, while the X5 offers 16-way seats. 
With three rows, the 2022 MDX Type S has a seating capacity of seven, while the X5 has two rows and can seat five.
Talking about seating, the MDX is equipped with quilted sports seating in the first row and bench seating in the second. The X5 has bucket front row seating and bench seating in the second. Sport seating is an enhanced version of basic bucket seating. 
Both vehicles are similar in that they both offer keyless ignition, a 12 DC power outlet, and adjustable lighting.
The MDX has a sports-style steering wheel, whereas the BMW has a leather-wrapped steering wheel. While the leather steering wheel is durable, the sports-style steering wheel is superior in that it relaxes your muscles, provides enhanced endurance, and ultimately offers a better driving experience.
Capacity 
With its maximum seating capacity of seven, the Acura MDX is bigger and more spacious than the BMW X5.
The MDX Type S has a total gas tank capacity of 18.5 gallons and the BMW X5 has a tank capacity of 21.9 gallons.
Performance 
The Acura MDX Type S and the BMW X5 both have robust powertrains, making them fierce competitors in their segment.
For 2022, the Acura MDX Type S is equipped with a 335-horsepower turbocharged V6 engine with a peak torque rating of 354 lb.-ft. 
The 2022 BMW X5 comes with three different powertrains for different trims. The X5 sDrive40i and xDrive40i both have a 335-horsepower turbocharged straight-six engine. The plug-in hybrid version of the X5, the xDrive45e has a turbocharged straight-six engine with an electric motor that produces 389 horsepower. Finally, the X5 M50i has a V8 that produces 523 horsepower.
While each powertrain is well-suited for each of these luxury mid-sized SUVs, the V8 in the M50i surpasses the MDX, but the question you have to ask is how much does that upgrade cost?
Technology 
The 2022 MDX is equipped with 25 speakers for a more dynamic sound experience. The X5 offers ten speakers.
Both vehicles are equipped with a built-in touchscreen for access to Bluetooth, FM, and Satellite radio. The MDX stands out in that it also has Amazon Alexa, Apple CarPlay, and Android Auto Integrations.
Bottom Line 
Though the V8 engine on the higher trim BMW X5 might offer more horsepower, it is quite a bit more expensive than the Acura MDX Type S. As you have seen above, the Acura MDX excels on many levels including interior amenities, passenger space, technology, and more. We would choose the 2022 Acura MDX in a heartbeat. Can you blame us!?
Test Drive the 2022 MDX Type S
Ready to test drive a 2022 MDX Type S? Come visit our showroom at Maus Acura North Tampa or give our friendly sales team a call at (813) 535-6287 to learn more!
We know you're going to love the 2022 MDX!